Worldwide Partners is excited to welcome our first new partner of 2019, Greater Than One! Greater Than One (GTO) is a health and wellness imagination agency headquartered in New York City, with satellite offices in San Francisco, London and Madrid.
Greater Than One does many things for their health and wellness clients–corporate and brand building, creative services, PR and social, media, analytics, technology and enterprise capabilities–and it starts with imagination. Imagination is at the center of their strategy, creativity and technology: their elastic thinking pulls in research, data, and analytics to shape STRATEGIES that move markets; their unique CREATIVE chemistry produces powerful ideas that embody and animate strategies; and their TECHNICAL INGENUITY is the energy that mobilizes creative ideas to change behaviors in markets.
The Health and Wellness marketing industry is distinct in many ways. Strict regulations are an obvious and legitimate difference, but GTO also embraces other characteristics to build best-in-class marketing brands and campaigns. GTO is at the forefront of new industry trends like increased patient/consumer empowerment driving health decisions, the evolution of digital health tech from novelty to utility, the rise of AI in Health and Life Sciences, the evolution of "big data" into more meaningful and applicable "small data," and the growth of innovative private insurance models and novel partnerships that continue to shake up the payer industry.
The one thing that Health and Wellness shares with other industries, and has always been the case, is the need for customer-centricity. Fancy new tools and technologies are only instruments to help marketers reach, engage, and build relationships with people. GTO believes that no matter how many wonderful and important technologies or channels are developed, they still must work for humans. Must address the audience's journey, needs, behaviors. Must respond to pain points in order to provide better experiences. Must use imagination to turn hope into reality for customers, families, communities and clients.
Imagination, of course, was what fueled two recent and successful campaigns for Greater Than One. The first was for client Grifols and their PROLASTIN-C, a therapy for patients with the incurable and often undiagnosed are genetic disease, Alpha-1. Greater Than One worked with Grifols to create an unbranded DTC campaign and re-brand Alpha-1 as "Genetic COPD," as the disease presents with similar symptoms to the better known COPD. The campaign leveraged digital channels to identify and target the right segment of the audience, and drive them to order a free Alpha-1 Test Kit to bring to their physician, and easily get treatment if found to have the disease. To date, this campaign has helped to identify seven Alpha-1 patients out of the 10,000 patients predicted to have it in the United States, an incredible percentage of accomplishment indeed!
Genetic COPD website, where patients can request free Alpha-1 test.
The second imaginative campaign hits very close to home for Greater Than One–an agency re-brand titled "Made with Imagination." The GTO team spent a full year analyzing the competitive space and found that in the complex health and wellness business environment, clients are often looking for solutions that they are not even aware exist. By positioning themselves as the Health and Wellness Imagination Agency, GTO can create a unique and differentiating space for themselves by transforming everyday problems into incredible solutions for clients. The new branding is brought to life with a memorable, colorful visual of ink in water, representing the elasticity of their imagination as well as the collision of ideas brought to clients every day.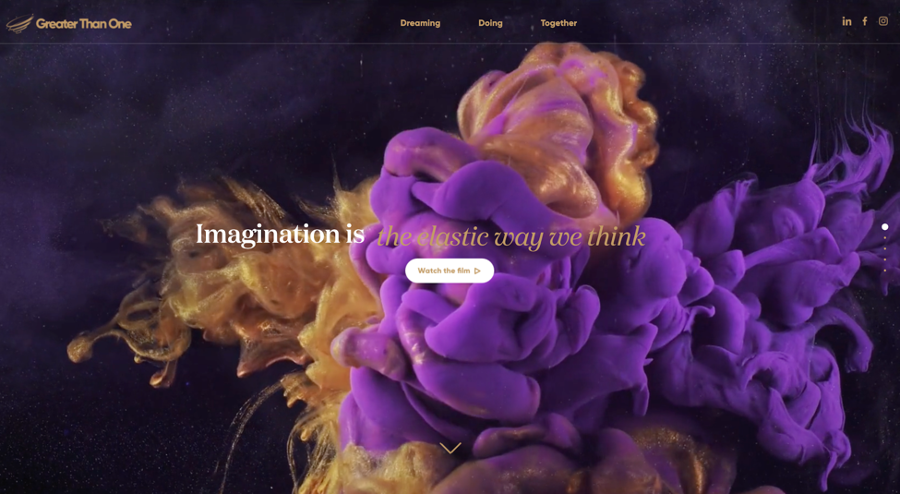 Greater Than One's website, showcasing their fresh new brand.
Greater Than One's imaginative ideas come from nearly 20 years in the Health and Wellness industry, purpose-built teams that provide resources expressly built to support client needs, agility to support an "on-demand" world, results-focused campaigns, and diverse talent located in some of the world's most diverse, influential and vibrant cities.
Greater Than One is thrilled to join the WPI network, and looks forward to expanding their global footprint by collaborating with other partners around the world. "As an independent agency with a growing number of global Clients, we need greater global scale and capabilities," says Kieran Walsh, President of GTO . "Rather than start building out one-off offices, we feel a partnership with a network like WPI offers us the opportunity to further grow and scale globally. We can be a part of a unique model with A+ agencies as partners and continue to be independent."
Learn more about your new partner, Greater Than One and be sure to follow them on LinkedIn, Facebook and Instagram.