"There is no new normal, there is only a new strange."
SWRV 2020 keynote speaker Rishad Tobaccowala, Author of Restoring the Soul of Business: Staying Human in the Age of Data, discussed the sweeping and enduring changes caused by the pandemic. What we'd all hoped would be just a few short months of quarantine, is now going on nine months, has affected every aspect of our lives, and has no end in sight. People, if lucky enough to remain healthy, have lost their jobs and homes. Businesses, if lucky enough to remain open, have had to completely restructure their operations. And Society, in which there's been little luck, has been shaken to its core.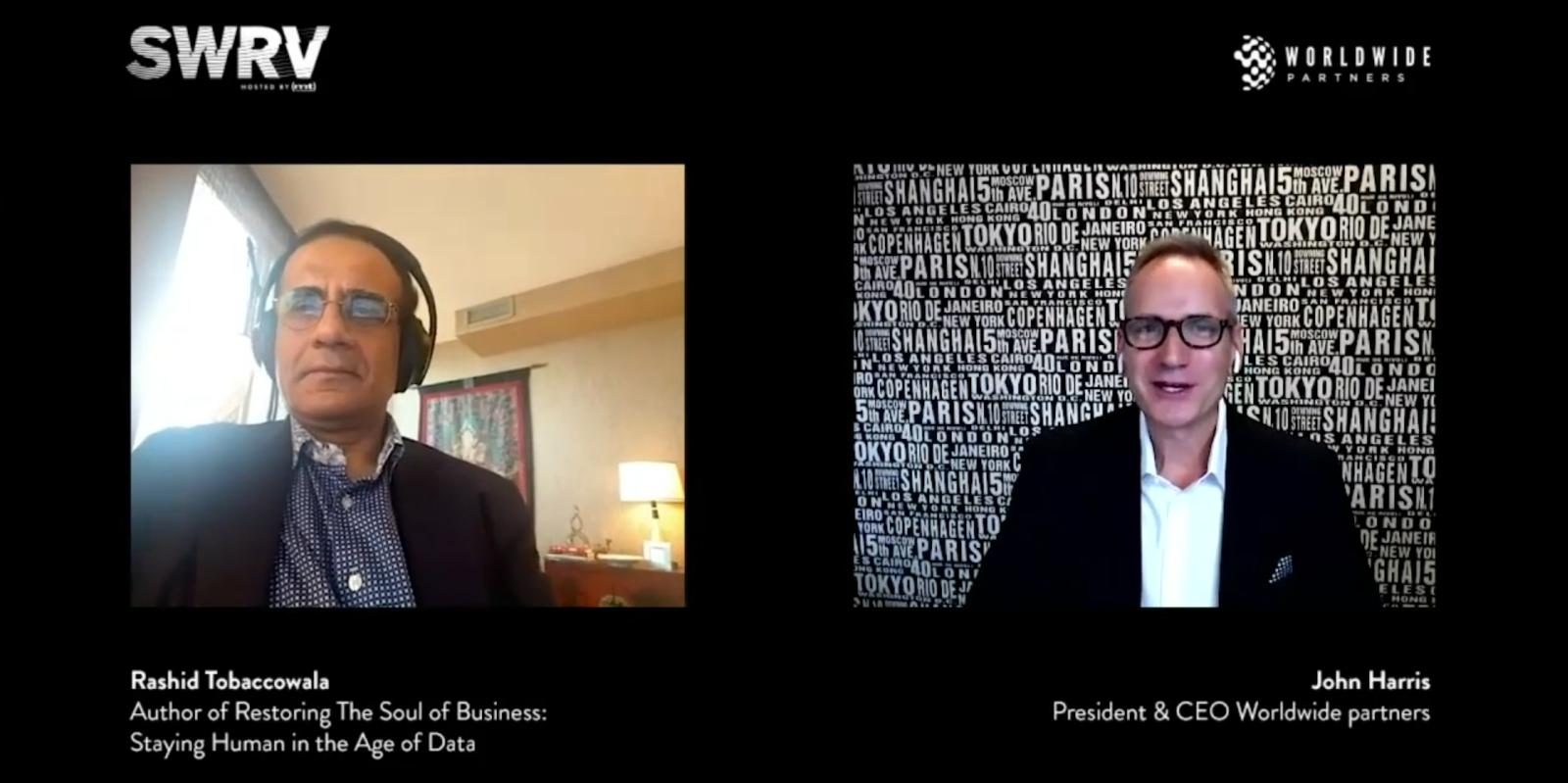 These changes have led to mental and emotional shifts for consumers. The ways in which they're evaluating brands has changed, and it's unlikely that it will be shifting back in the near future. Brands and marketers can't simply strive to restore the old perceptions and ways of engaging, they must reinvent themselves to swerve into this new strange. 
Tobaccowala shared the following 6 tips for helping brands, agencies and consumers remake themselves and their connections. 
Rebuild Your Humanity
We're not working from home, we're living at work. 
Burnout has been a major challenge as the line between work and home has been erased. Combine that with all the stresses from kids and relationships, finances and the future, and the news and social unrest, and it's no wonder emotional states have changed drastically. 
To handle these changes, we must focus on upgrading our mental and emotional operating systems, not just our business operating systems. To upgrade these systems we must recognize three key things: 1. We're dealing with a sense of loss and all the emotions involved in grief; 2. We are presented with new opportunities; and 3. We can learn, rethink and re-innovate like never before. 
Do More with Less
We've all been forced to live with less these days. Tragically, for many that has meant less food, less shelter, less money and less healthcare. For the more fortunate others able to work remotely, that has meant less travel, less commuting, less primping, and fewer luxuries. And being forced to cut back has revealed to most that they actually need less than they thought.
The same is true for how businesses operate and how they connect with their customers. Tobaccowala is not suggesting you cut costs or lay people off; rather, he's encouraging you to consider if you really need that meeting, that tool, that complex process. 
Redefine Brand Purpose
Consumers want to understand what a brand is doing to benefit society as a whole. This has made purpose-driven marketing more important than ever. Yet it's not enough to simply say "we make the world a better place"--to only focus on culture and relevancy--brands must find points of differentiation. 
Tobaccowala shared two areas that brands can address to differentiate themselves:
Explore the roots of the brands to uncover the hidden heritage or legacy that makes it different. 
Focus on the modern ESG (employees, society, government) - How are you looking after your employees? How are you helping society or minimizing the bad parts of society? How do you work with the government in your region?
Demonstrate Safety
Every decision consumers are making today is based on the safety of themselves and their loved ones. Agencies must help clients determine how they can make people feel safe using their products or visiting their establishments.
Offer Security
The future has never been more uncertain, but those brands that can make consumers feel more secure about what the future holds will better connect with consumers. Whether it's through value, finances or support, security is a major consideration point for consumers, and a major differentiation point for brands.  
Guide Into the Future
Our role as agencies can no longer just be about supporting the brand and selling products. We must help guide our clients into the future. This means helping them connect with customers using the newest methods of our era--cloud connections, 5G, voice connections--and by asking "How have customer needs changed, started or stopped in the last 6-12 months?"
It also means continually bringing new ideas to clients. These ideas should be, must be, inventive and are only limited by three "rules"--it must be legal, it must be technically possible, and it must make money in three years or less. 
With all the uncertainty and reinvention that lies ahead in the foreseeable future, independent agencies are better suited for helping guide brands into this new strange. Tobaccowalla cited our four superpowers that make us more capable: ability to focus on the most important and most relevant things, ability for agency principals to work on the business, ability to attract the next generation of talent that demand more autonomy, more recognition and faster movement, and the ability to collaborate within the network and other companies.
The new strange may be precarious, but it offers an opportunity to start with a fresh slate, to reinvent our businesses and redefine our brand purposes. Tobaccowala said it best: "We can't just put lipstick on a pig, it has to be in the bacon."