The swerve to ecommerce has perhaps been the most accelerated trend of the COVID-19 era. U.S. eCommerce penetration is now four years ahead of pre-pandemic predictions. Retail brands, DTC brands and B2B brands across every vertical have been optimizing and capitalizing on all aspects of their digital shelf. 
Ecommerce was an essential topic at SWRV 2020, our Global Summit for Worldwide Partners agencies, which took place last month. Experts from Casual IQ, Facebook, TikTok and several other industry leaders shared insights, tips and trends to help WPI agency partners rethink marketing fundamentals to leverage this booming industry. Following are the key ways that brands and advertisers must swerve to be successful in ecommerce today.
Learning to relinquish control
Brands can influence purchases, but they no longer control them. Shana Atwood, Causal IQ Directory of Strategy, evoked the image of a tumbling tumbleweed, it's path swayed by outside forces, picking up things as it rolls along: "Rather than the linear progression that we're used to describing the customer journey as, it's gotten a lot more messy."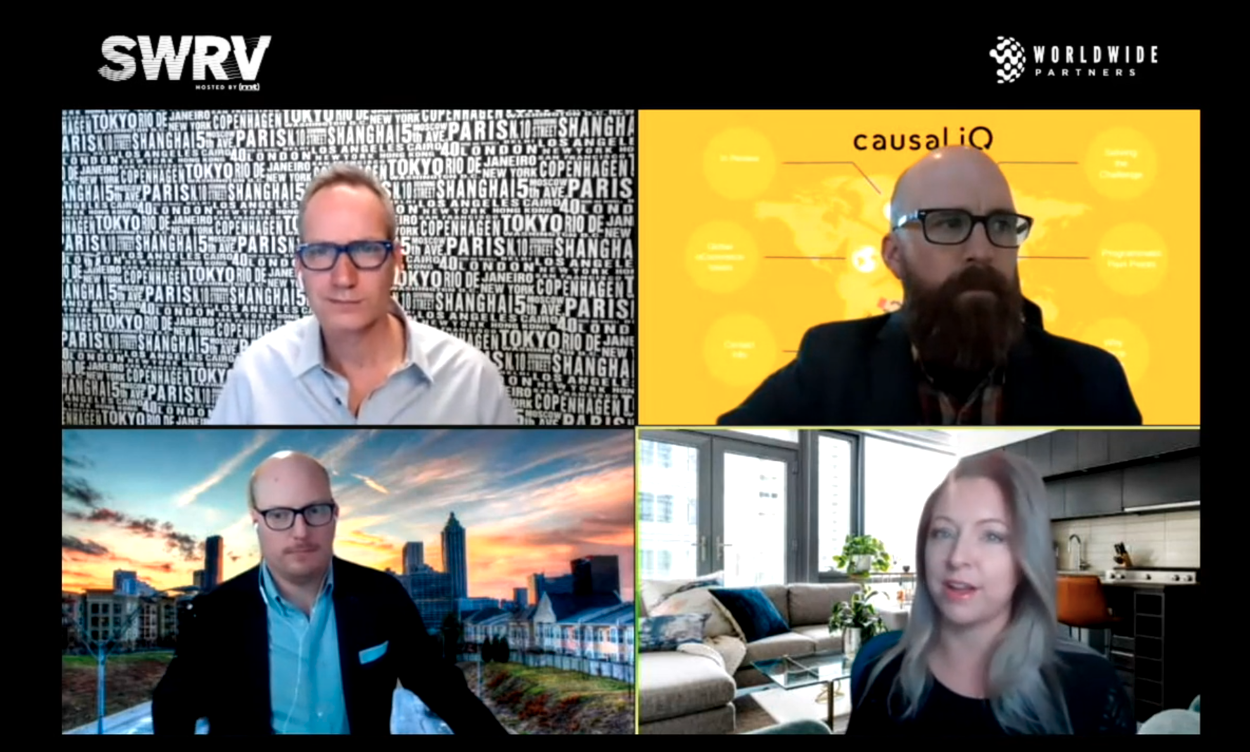 The days of crafting every element of your brand message and carefully seeding it to the public is no longer possible (if it ever really was). Brands must be willing to relinquish control, and ride the currents their consumers and the public create. To do this, it's imperative that brands have dedicated customers and followers, people that know and trust the brand. And that trust goes both ways. Brands must trust their product or service to be useful and compelling, and they must trust their consumers to be good stewards for the brand. 
Riding the current doesn't necessarily mean being retroactive. Platforms like TikTok help brands enter the community and conversation in more authentic, more balanced and thus, more powerful, ways. "The playing field, for the first time, has been leveled," said Khartoon Weiss of TikTok. "The opportunity for brands to connect and belong to the many communities of the world is starting to equalize. Brands and creators have become equal."
https://www.tiktok.com/business/en-US/
When brands get involved on TikTok, the focus is on connecting and co-creating with the community, and providing inspiration and entertainment. It's not about advertising, and that's often what makes it so influential.
The rise of Discovery Commerce 
Traditional shopping experiences can be referred to as "appointment commerce"--you carve out time in your day to buy a product that you already know you want or need. Appointment commerce is predictable, it's consistent, it's useful and it's not going away. But Omar Zayat, Head of Industry, eCommerce, with Facebook, shared a new type of shopping experience that has risen out of advances in technology and social media platforms--Discovery Commerce. 
Discovery Commerce are the products you happen to find online, the ones you didn't think you needed but were inspired to buy because they were personalized, compelling and charming to you. "Discovery commerce is serendipitous, it's seamless, it's frictionless, and [it helps you discover] the perfect product that you need in your life," said Zayat. 
Powered by machine learning, Discover Commerce matches products with the people most likely to love them based on the content they're already engaging with. "People don't find the products, the products find the people," says Zayat. And once those products find people, it's giving them a seamless way to buy with fewer forms and fewer tabs. 
Creating frictionless commerce processes
Consumers have near endless choices for purchasing products online, and any barriers or hiccups in the purchase process can send them off to a competitor. A smooth and effortless purchase process is essential for driving revenue and improving customer loyalty. Zayat advises brands to ensure customers can complete their purchase in five taps or less. 
He also stressed the importance of the checkout process. "Checkout is often the weakest link in the chain," Zayat explained. In the United States alone, nearly $235 billion is lost to issues that occur in the checkout process. "You need to create a checkout process that is so enjoyable, people actually remember it and talk about it."
Focusing growth on older generations
According to GlobalWebIndex data, this is the first time in 160 years that the number of multi generations living in one household has increased. This daily connection with the young and tech savvy is having a major influence on older generations, helping them to become more familiar and comfortable with technology.
 As a result, mobile and online usage is up 10+% globally for Boomers and Gen Xers. "Whether it's to pay for something, to date or to game, [older generations] are doing so, so much more online," said Carrie Seiger, General Manager of GlobalWebIndex.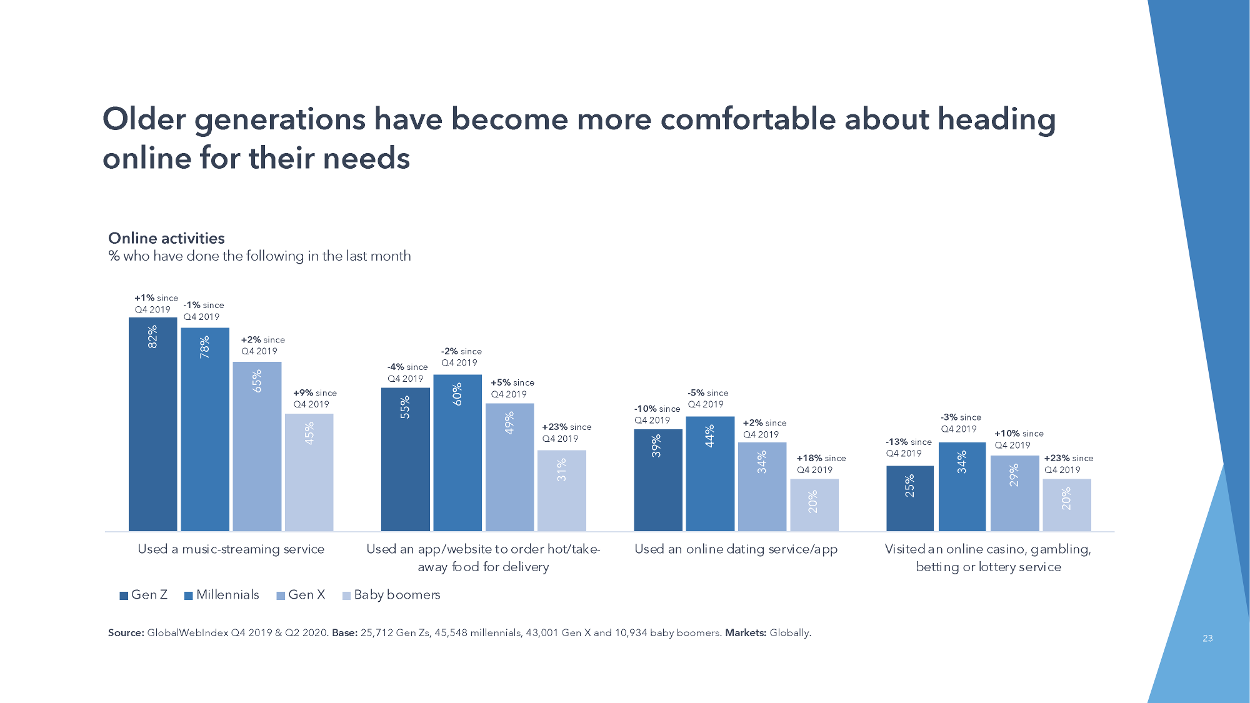 Traditionally brands target a younger demographic via digital advertising and marketing, but that may no longer be the only, or best, audience. "A lot of the younger generation is not growing, these have already been your customers," says Seifer. Therefore, looking to older generations could be the key to growth. 
To be successful in the ecommerce age, brands and advertisers must learn to yield control to the community, adopt new shopping experiences, ensure frictionless checkout processes, and embrace new audiences. It requires a rethinking of all marketing fundamentals and a willingness to go wherever the tumbleweed takes you.